zoom university sucks!!!
the student / worker issue
Good morning, friends
How are you feeling at the mid-September mark? On the west coast fires rage, it's hard to breathe, and students everywhere are fed up. University semesters are well underway by now so this newsletter is dedicated to you: the students whose work and resistance we admire.
Zoom became the four letter word nobody knew would suffuse our existence in 2020. And yet here you are teaching, grading, assessing, partnering, and writing, all on a virtual platform. Taking action. Reacting to your university's protocol and lack of leadership by publishing editorials, making demands, and striking.
Be sure not to miss @alexisvigario8's College COVID Bingo Tik-Tok: a musically chilling interactive experience that reveals institutions' re-opening strategies…and failures. Who doesn't love a pandemic game based completely on chance?
We stand with you. We're mad, too.
Hannah & Stephanie for the VFC
---
How are you feeling this week?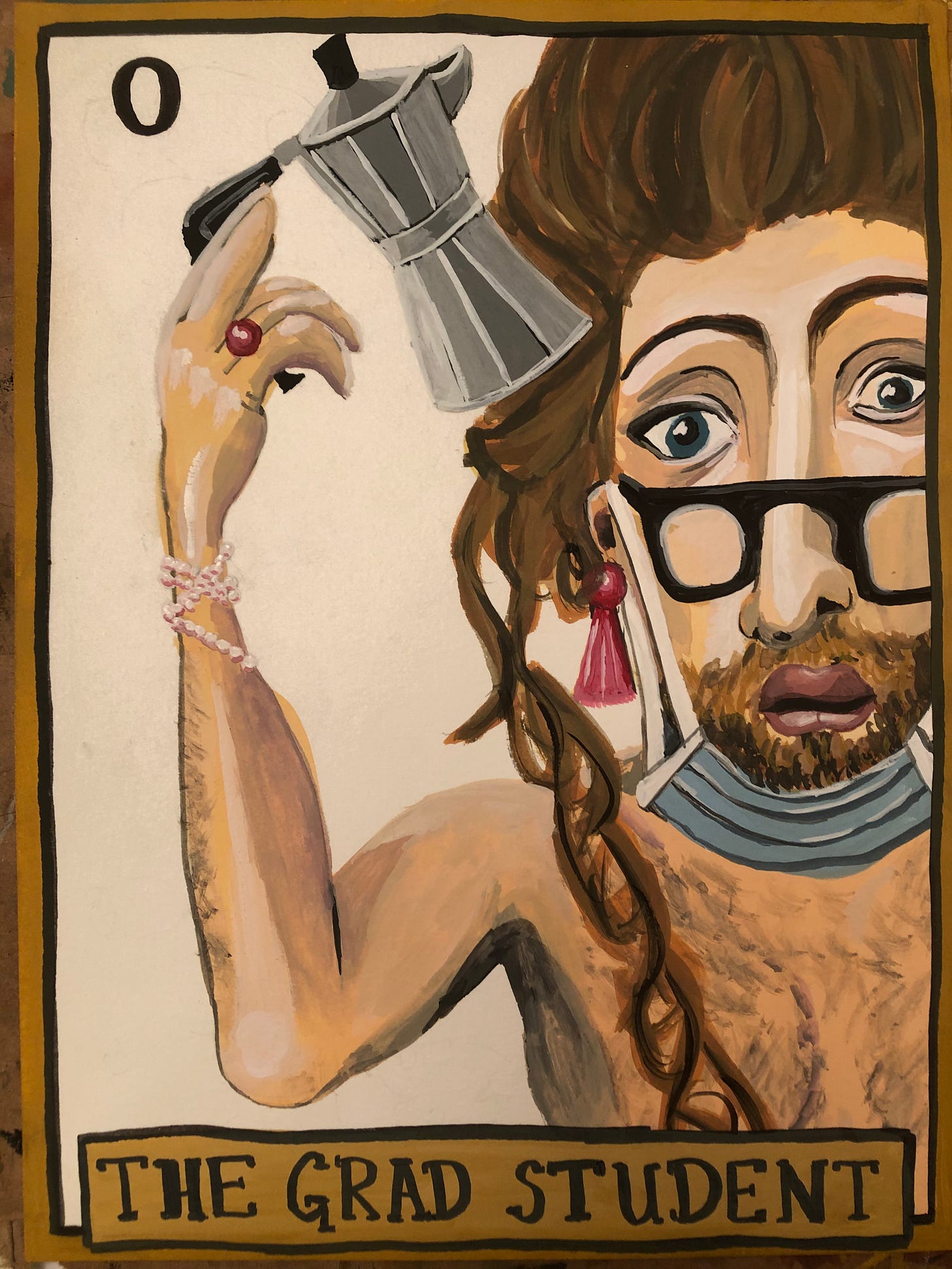 Each week we're checking in about feelings as the fall semester unfolds. Even if you've taken the survey before, please take a minute to take it again! We'll be creating and sharing visualizations about our collective moods. And we'll never make your personal information public. Read more about our community principles.
[Academic tarot card made by artist-in-residence Claire Chenette for the VFC.]
---
Last Week in Feelings
Charting feelings takes time. For now, here's a round-up of how you all felt last week.
I feel like all the parts of my job I like are gone and all that's left are the parts I don't.

Zoom university sucks!!!!!

I'm terrified on so many scales.

the world is a nightmare, i want to go home

My students are giving me life.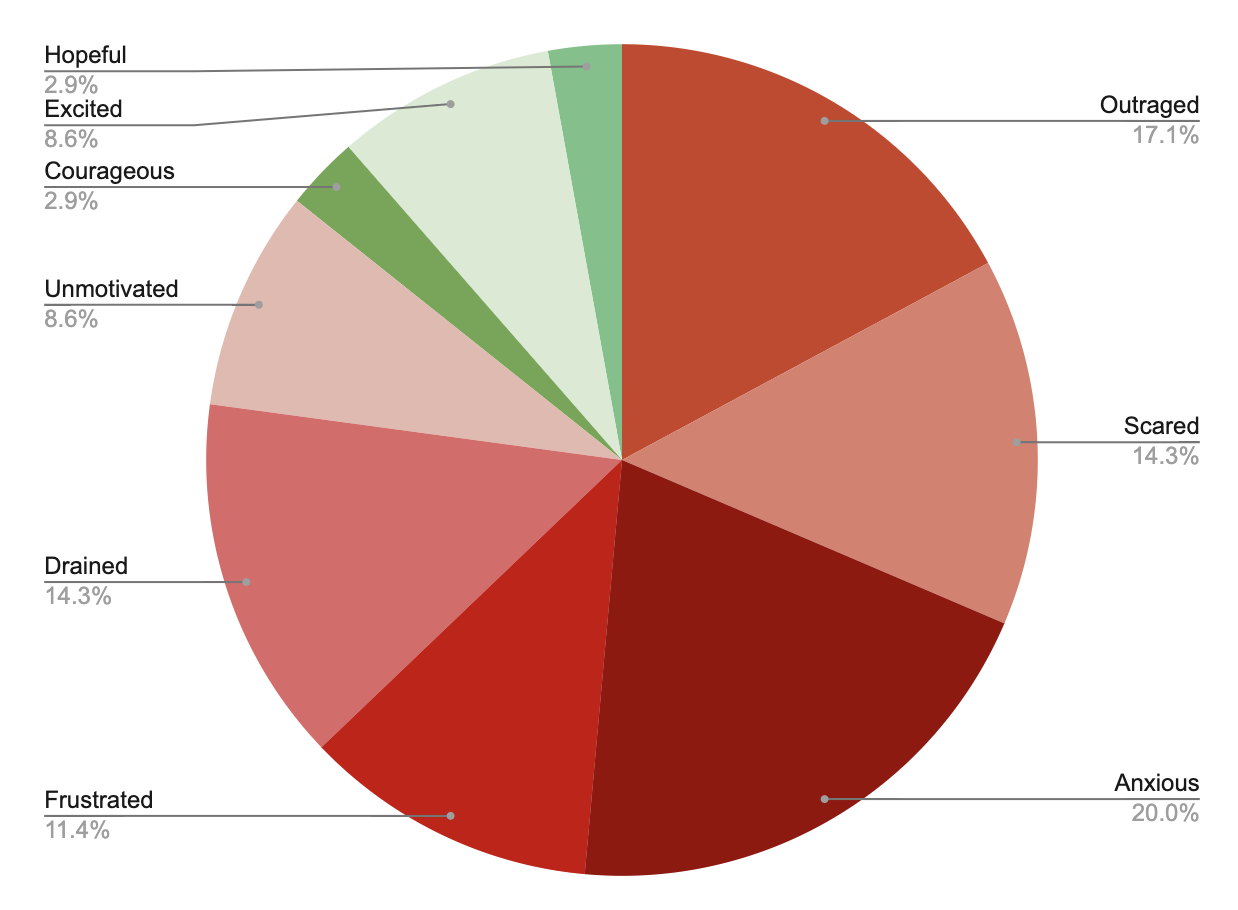 [Image description: Pie chart shows that most people are feeling anxious (20%) and outraged (17.1%), while some people are feeling excited (8.6%).]
---
The University of Michigan Graduate Students Are on Strike
Covid Demands
Universal right to work remotely without documentation including resources for remote work.

For international students, better International Center support and the repeal of the $500 international student fee and document shipping fee.

For parents and caregivers, care subsidies provided regardless of the care provider's license status; allow for healthcare plans to be maintained and available even during the leaves of absence taken by caregivers.

Unconditional support in the form of extensions to degree timelines and funding, a $2500 unconditional emergency grant, rent freezes, and flexible leases for on-campus housing.

For the whole community: sufficient, transparent, robust plans for testing, contact tracing, and campus safety.
Anti-policing Demands
Access to a disarmed and demilitarized workplace, where lethal weapons are prohibited.

Defunding the Division of Public Safety and Security (DPSS), involving a cut of 50% of their annual budget and a reallocation of their funds to community-based justice initiatives.
UM to cut all ties with police, including Ann Arbor Police Department (AAPD) and Immigration and Customs Enforcement (ICE).
[Read the demands in full here]
Take Action to Support the Strike
Check out the Master Document for Allies for details on how you can help.
---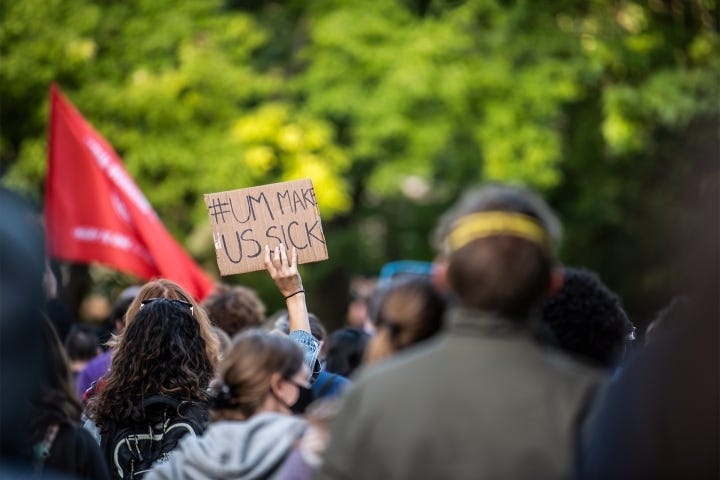 [Image description: marching students holding a sign: #UM MAKES US SICK. Madeline Hinkley/The Michigan Daily]
---
The Great Betrayal
Students are mad.
According to The New York Times, more than 88,000 college students have contracted COVID-19 in the United States. Over a hundred thousand are in quarantine in their dorms, taking on debt for the privilege of being locked in a single room with inadequate food while attending poorly designed hybrid or virtual classes. Meanwhile, universities are blaming students for their administrative failures and for the consequences not just to students but to staff and community.
I'd be outraged, too.
That's why the Visionary Futures Collective has been compiling student responses to campus reopening. Our new map shows how student journalists have been using their platforms to demand better from their universities. And our timelines show, from a student perspective, how we got where we are today.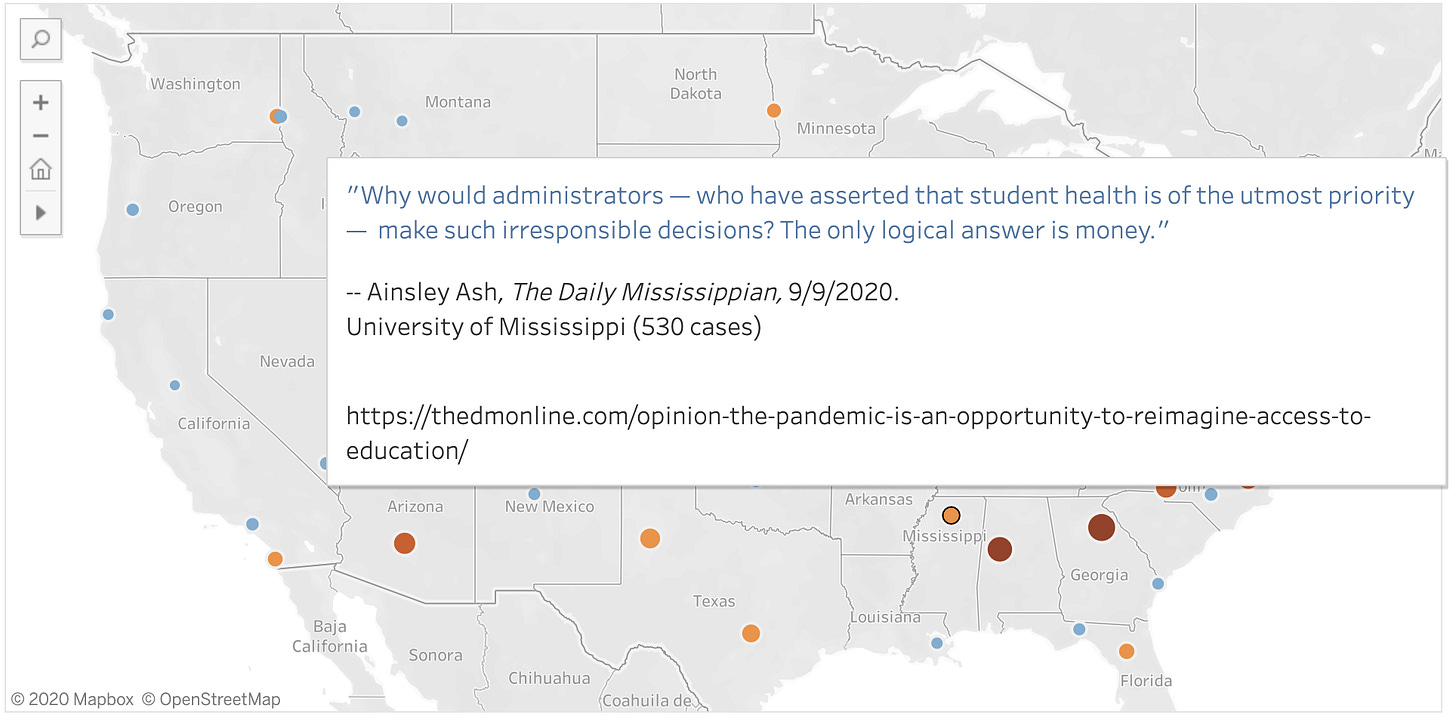 [Image description: a map of universities in the US, with the University of Mississippi selected. A pop-out reads "Why would administrators — who have asserted that student health is of the utmost priority — make such irresponsible decisions? The only logical answer is money."]
---
Mutual Aid for First-Year BIPOC PhDs
"We need to stop pretending communities with 1/10th the wealth of white communities are underwriting our incoming Ph.D students' moves" says Dr. P. Gabrielle Foreman, co-director of the Center for Black Digital Research at Penn State University, referencing staggering Anglo-American and Black-American family wealth discrepancies.
That's why Foreman is facilitating a mutual aid initiative to provide small grants to help Black, Indigenous, Latinx, and undocumented students and scholars pay for moving costs associated with starting their PhD programs and post-docs.
Fact, I almost did not make it to Penn State because of the cost of moving. — Gabriel Pulido
The grants cover expenses like apartment deposits, flights, mileage and moving truck rentals—costs that accrue long before students start receiving their stipends. Students report that moving costs and semester student fees can add up to $4,000 that are not covered by stipends.
Foreman credits Denise Burgher, a current PhD student leader, for sharing that many students can't cover moving costs and September bills while waiting on stipends to start. This has long-lasting effects on their credit. They're skimping on food. "For those of us who often send funds home rather than receive financial support from under-resourced and over-stretched family members this is an enormous and unfair burden," says Foreman.
The mutual aid fund invites those starting PhD programs and postdocs to request support. Each grantee receives at least $500 from the pool. Some are directly partnered with a donor. The process is meant to be quick and easy and to replicate systems of collective support that have supported generations of scholars of color on their educational journeys. So far almost 50 donors have have provided over $14,000 to just over twenty-five new students and scholars
While the mutual aid fund is giving a new generation of scholars of colors some relief, Foreman hopes to extend the effort. "As departments and universities issue diversity statements and policies, we would do a great service by adding needs-based moving funds that allow those starting their scholarly journeys to do so without extreme financial stress."
The point is not only to get funds and love out to incoming students and scholars. The point is also to show universities just how necessary this is. — Dr. P. Gabrielle Foreman
"Facilitating this effort is life-giving," says Foreman, who started this effort by offering to supplement just four students' moving costs and asking on twitter if others wanted to donate. "It's such an honor to interact with young scholars of color and to learn about them and their work."
Learn more about how to make a donation or contact Dr. Foreman on Twitter to request support.
---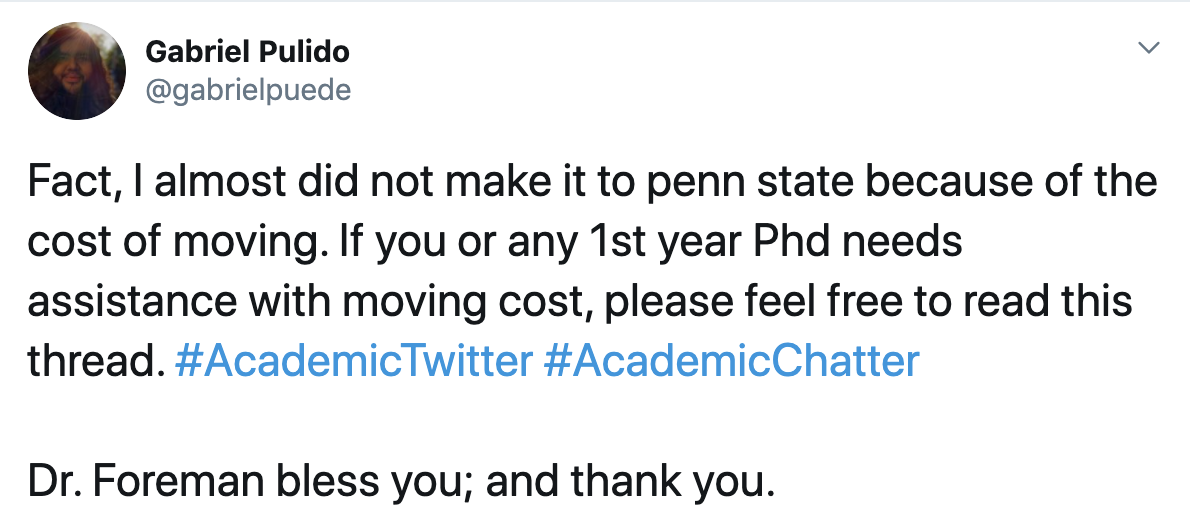 [image description: tweet from Gabriel Pulido: "Fact, I almost did not make it to Penn State because of the cost of moving. If you or any 1st year Phd needs assistance with moving cost, please feel free to read this thread. Dr. Foreman bless you; and thank you."]
---