Think of the children
Because who knew you'd be a full-time teacher with (another) full-time job
Good morning, friends
This week's newsletter is dedicated to caregivers to young people and to the children they live with. This pandemic has made me the honorary aunt to several new lives, and they are a blessing, and I am so grateful. I find solace in the fact that my friends have unexpected time to spend with their children. Where parental leave and extractive labor have failed us, pandemic work-from-home can help.
But I am also so, so worried about all of our caregivers, about the burdens we have placed on you, about the costs you continue to bear. I am so, so angry about what we are asking of you, and what we are doing to the children in your care.
This week's newsletter tries to balance outrage and solace, fury and hope. It includes content by and about kids living during the pandemic, plus stories from the parenting front-lines, mutual aid for young scholars, and a round-up of actions being taken this week.
Scroll to the bottom for this week's academic tarot reading: How can I balance being a caregiver with the demands of my academic career?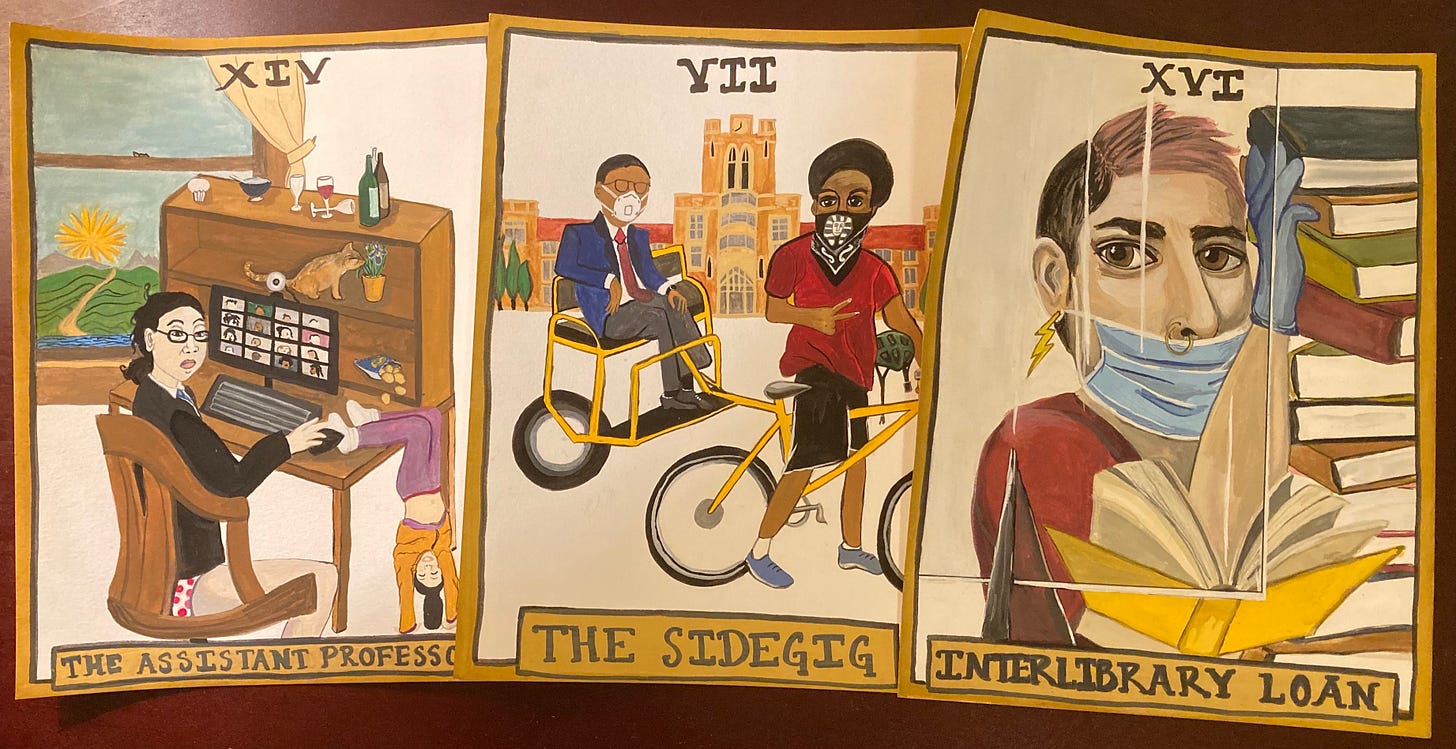 In solidarity -
Hannah for the VFC
---
How are you feeling this week?
Each week we're checking in about feelings as the fall semester unfolds. Even if you've taken the survey before, please take a minute to take it again! We'll be creating and sharing visualizations about our collective moods. And we'll never make your personal information public. Read more about our community principles.
"My students are so brilliant and they deserve a better semester than this. But they're also giving me hope."

"I'm exhausted and haven't even started grading."

"Sure, I'm feeling drained academically, but there's no surge of hope like unionizing your workplace."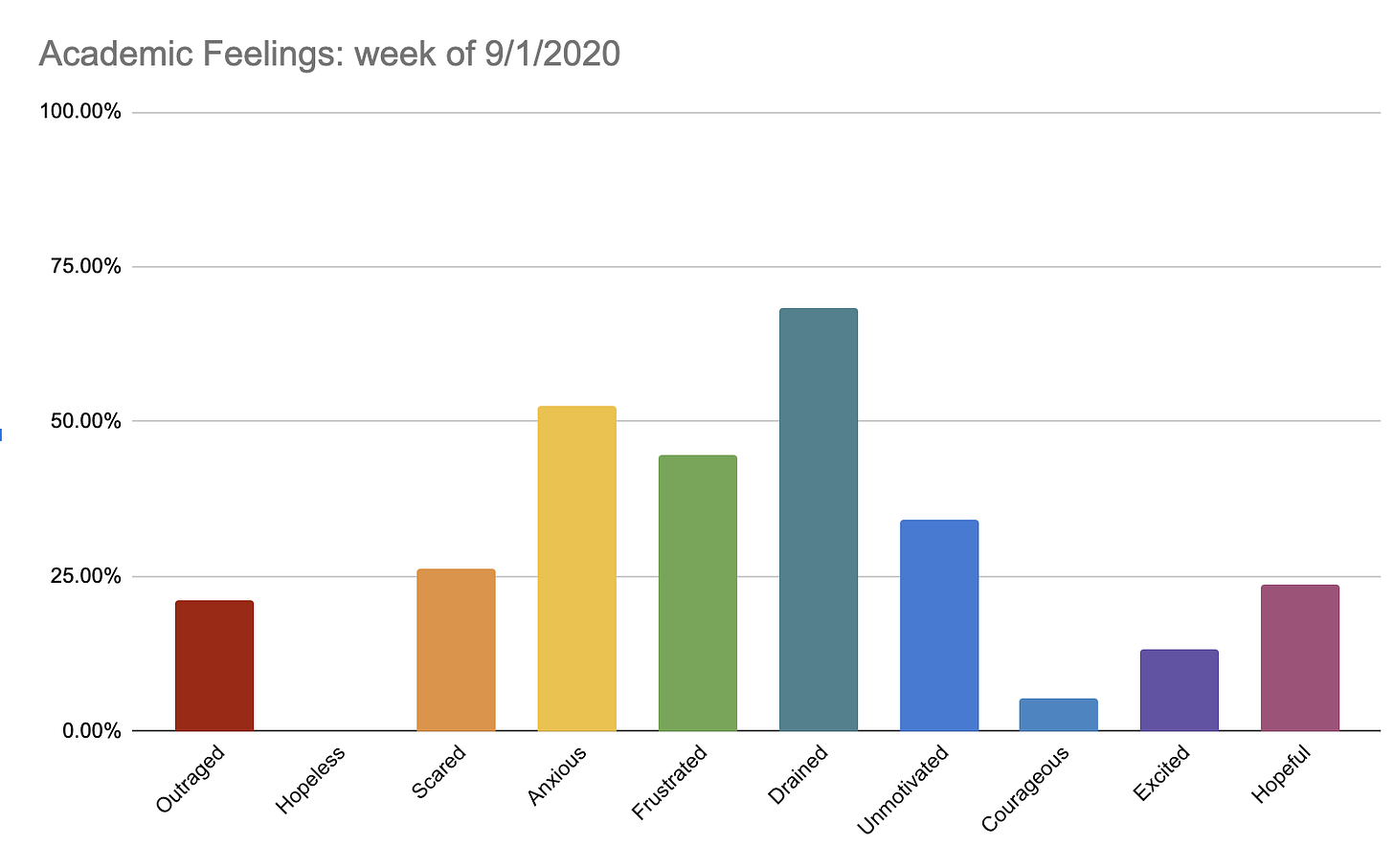 [Image description: a bar chart showing "Academic Feelings: week of 9/1/2020.'" A lot of people are drained, anxious, and frustrated, but some are excited, and some have hope.]
---
Five reflections on parenting in a pandemic
I) "Can you check the smoke degrees?" Asks the first-grader, as he pulls on his shoes. Every time, he asks while I'm trying to get the 2-year-old and preschooler into their respective pairs of Crocs. "Smoke degrees" is how he asks about the AQI.

When smoke blows in from the Bay Area wildfires, it makes the light a hazy yellow. Enough of it and his siblings go inside at preschool, tiny children dutifully donning masks. Too much, and everything shuts down. We huddle inside with windows closed, hoping the situation won't be compounded by a power outage. If Netflix goes down, and the batteries on the Nintendo Switch and our phones run low, we're doomed. I manage to check the smoke degrees with one hand while scooping up backpacks and lunch bags with the other. For now, it's only yellow. "75," I tell him. He wrinkles his nose as I open the door.
---
Myths and Legends! A recommendation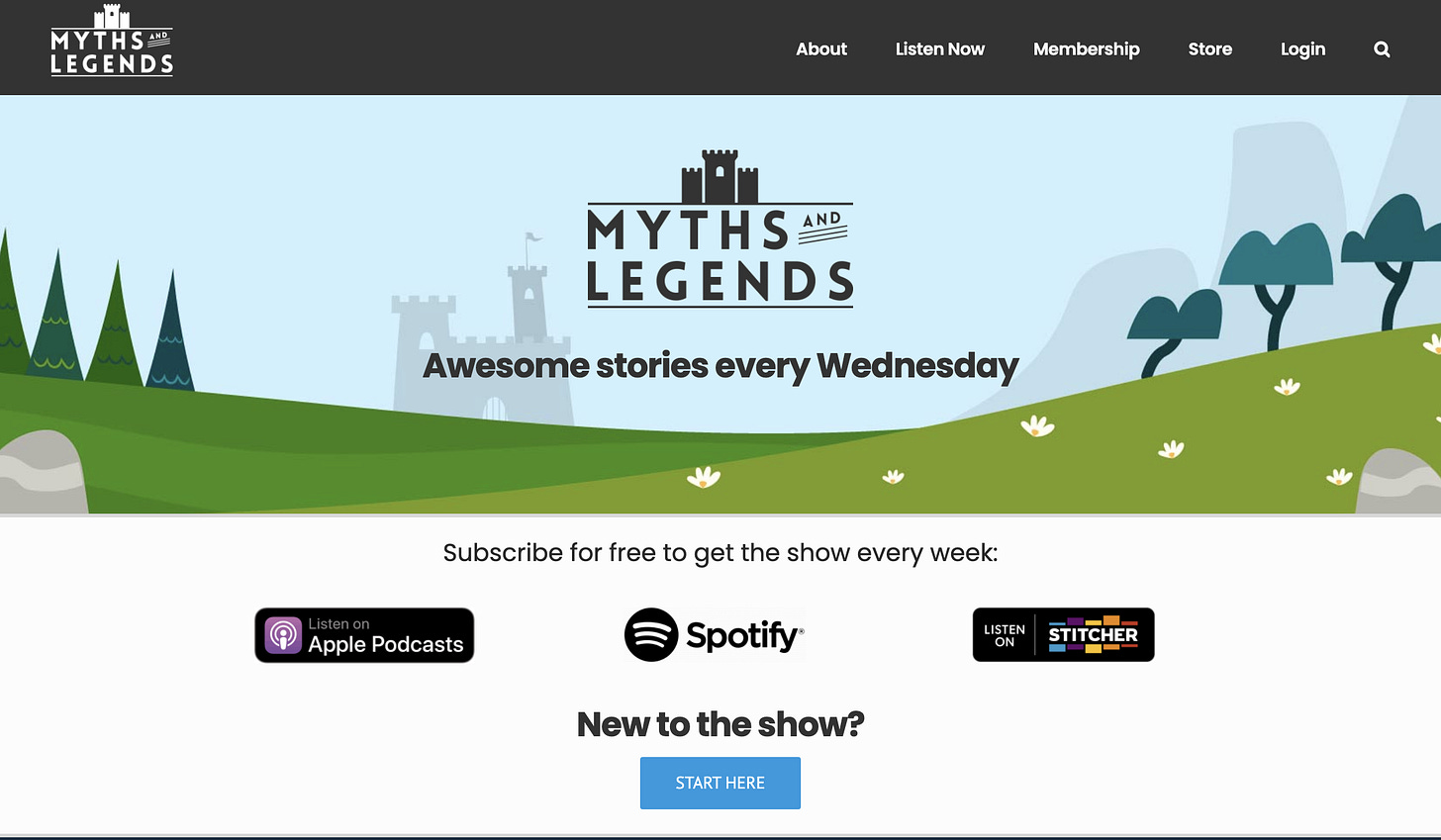 Check out the Myths and Legends podcast, great stories for kids and adults. Recommendation from Dustin Hixenbaugh, Department of English, San Jacinto College, and Jayden, age 6.
---
II) The doorbell rings. It's my recently-retired friend, dropping off a few things from his biweekly grocery trip. With three kids and multiple jobs, we don't have time to stand in the long line outside the nice grocery store. Packs of Yakut for the kids. And mangos, a special request from the 2-year-old. She'd deafened us all with her screams that morning at the news that we were out of "fruits". I reassured her with the news that my friend was going grocery shopping that afternoon. "He gets me something for treats?" She asked. The first-grader doesn't want to bother answering the door. "It's spam," he says, dismissively.
---
University Caregiver Demands
These demands are excerpted from a letter written on behalf of faculty at UCLA. Read the full statement here.
A minimum of $1 million of funds be made available as current-use monies to provide:

Direct reimbursement to faculty for out-of-pocket support for TAs and readers for COVID-related caregiving demands;

Partial offset of newly increased, temporary childcare fees;

Technological equipment and support to facilitate the establishment of privately sited childcare pods among UCLA faculty, staff, and students;

Other unanticipated expenses;

Reimbursement of departments for expenses related to hiring substitute lecturers to replace faculty assigned Active Service Modified Duties.
A buy-out equivalent of 50% temporary staff or GSR time for AY 2020-21 to support caregiving tasks and management.
A Directive sent to Department Chairs and Deans that if an affected faculty member fails to secure alternative child- and/or elder-care arrangements, they be granted one to two quarters of ASMD for AY 2021-22.
A Directive sent from Graduate` Division to Department Chairs offering caregiving graduate students an extension of an additional one year on any time-to-degree criteria.
An allowance for asynchronous teaching modes or work-from-home policies relating to childcare and caregiving responsibilities of any sort.

A continued effort across AY 2020-21 and beyond to identify essential strategies of caring.
—by Rachel Lee, Anahid Nersessian, Louise Hornby, Matthew Fisher, Michael Rothberg, Sarah Kareem, Marissa Lopez and Mitchum Huehls.
---
III) The first-grader has wisdom to share with the preschooler as he goes to join the "big kids" group at school. "You should go up to any shy kids and ask them if they want to be you friend. And that almost always works! And if you do that, you'll have lots of friends when coronavirus is over, and can go on lots of playdates."
---
Brains on! a recommendation


Check out Brains On, a STEM-centered podcast with lots of guest experts who make difficult concepts easy to understand, including recent episodes on coronaviruses. Kids can send in their own questions and mystery sounds. Recommendation from Lorena Gauthereau, University of Houston, and Travis, age 9.
---
IV) Watching a movie on our 50" TV is now referred to as watching it "on the big screen", in contrast to watching it on a tablet. The cool indie movie theater we'd often go to last fall and winter is now a distant memory of the before-times.
---
Action round-up
Anti-racist actions
New projects from the VFC
Scholarly societies
Students & Staff Responses
---
V) "What's next year's title name?" A non-sequitur in the car. It takes me a moment to puzzle through the question, and come up with the right answer. "September." Even the young aren't spared from the time-distortion field of 2020. "Can we go to a thousand years later?" He asks me another day. "You would be dead... When will coronavirus probably stop?"

—Quinn Dombrowski with Sam, Paul, and Eliza.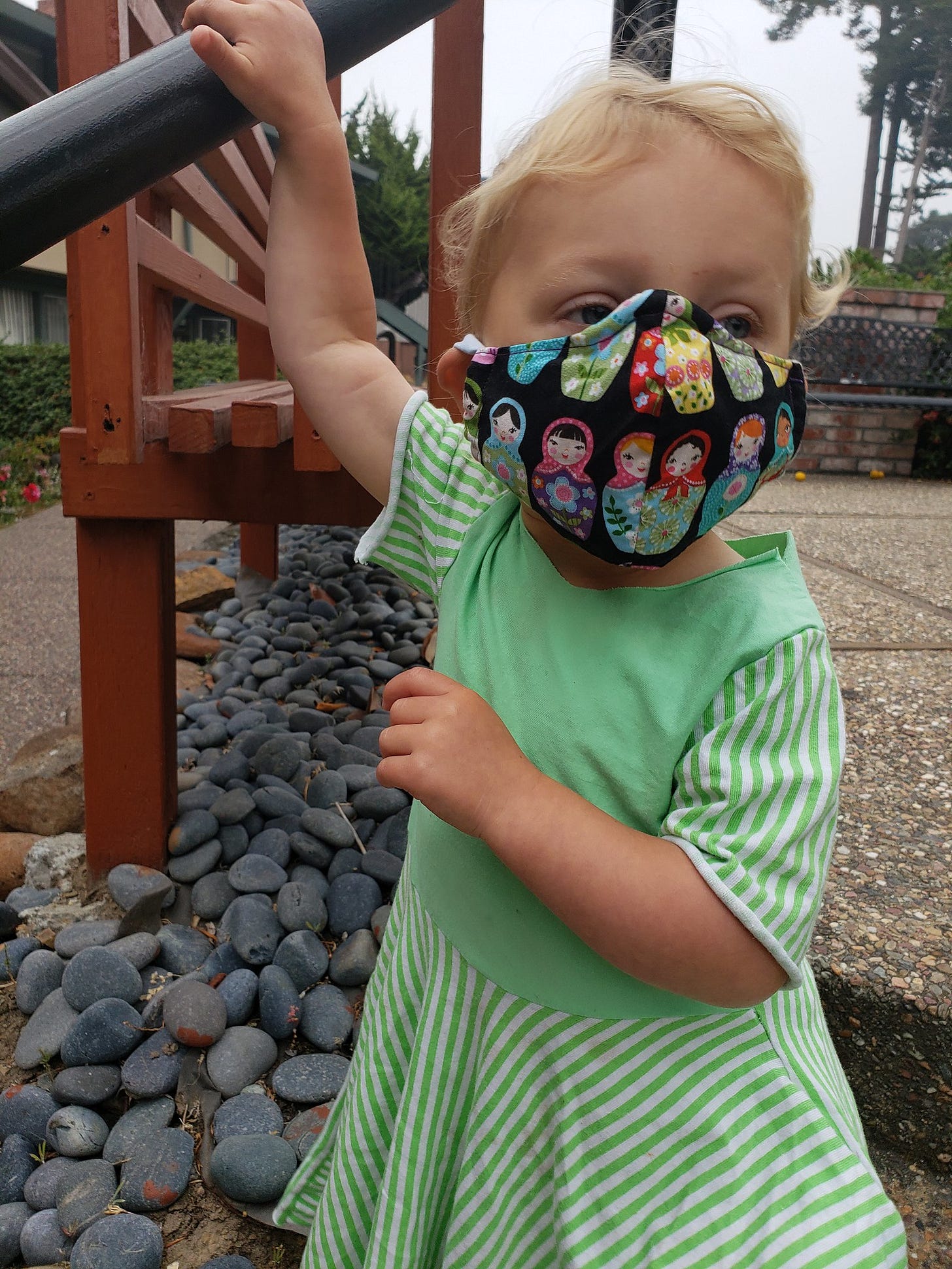 [image description: a blond child by a park bench is wearing a green dress and a mask made of fabric decorated with babushka dolls.]
---
Coyote & Bones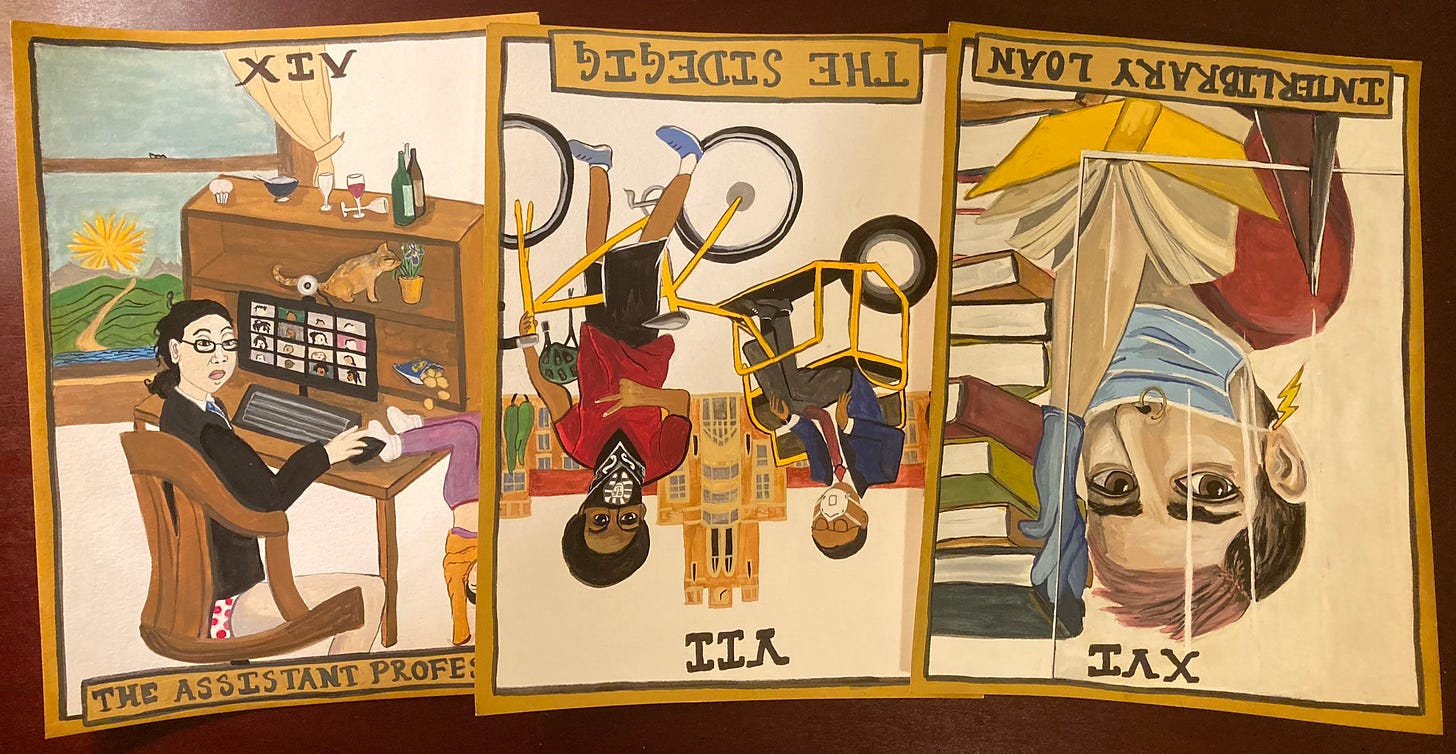 [image description: three tarot cards. Card 14, the assistant professor, shows a woman on zoom with her child and her cat. Card 7, the side gig reversed, shows a bike messenger in front of a castle or campus. Card 16, Interlibrary Loan reversed, shows a librarian in a mask with a tumbling tower of books.]
You've come to us with a child hanging off of both knees and another experimenting with the power cord to your computer so we're going to make this quick. But first we have to change a diaper, just kidding, that mess will have to wait. Right now we are entirely here for you.
The cards we drew today will help us to see three things: what will help you, what will hinder you, and where to find your unrealized potential.
The first card we drew is The Assistant Professor, also known as Temperance. The Assistant Professor is a card for patience and balance. Drawing this card asks us to name our emotions. What will help us in this moment is to find calm, find breath, even as our world is flooded with stressful and frantic energy.
This card is also the card of alchemy. Yes, it's true. What you are being asked to do, as a parent and a professional in the middle of a pandemic, is impossible. But this card tells us that you are nevertheless an alchemist in all the areas of your life. You will make gold, or love, or peace, or revolution by processing, combining, and bringing people together.
The second card we drew is The Side Gig (The Chariot) reversed. The Side Gig is about being in control of your own destiny and moving towards your goals with bravery and determination. Drawing this card reversed warns us that if we push ahead with determination, we will definitely stall.
Caregivers, do not ask too much of yourselves right now.
The Side Gig tells us that people's opinions, lack of understanding, or lack of consideration is holding us back or deliberately sending us down the wrong path. Beware! You do not have time for that shit. So take a moment to stop, look around, and reevaluate. Allow yourself to be a mess. Allow yourself to be lost. Give yourself space to find your path again.
The third card we drew is Interlibrary Loan Reversed (The Tower reversed).
Listen, darlings. Catastrophic change is happening all around us, and books are literally falling from the sky. We cannot stop the tower from tumbling down, and we may not be able to stop the laundry from accumulating, the chaos from multiplying, or ourselves from eating popcorn for dinner.
Deep breaths, darlings. This card says: if you can do one thing in this moment, acknowledge that what's happening right now will impact our world, our careers, our families for years to come. Our work right now is to recognize the transformation as we move through it.
And then, if you have the capacity for more: know that the change happening now — the future that is slipping through our fingers — is necessary. Drawing ILL reversed asks us to accept that now is the time to redirect our energy inward. Now is the time to question our long-standing beliefs about our careers, about society, about childcare.
This card asks us to reflect: how can we take this moment of disruption and catastrophe and make real change for ourselves, our families, our community?
---
Have something you'd like us to share? If you know of a project relating to advocating for better life & labor policies on college campuses, please send it along. We're also happy to hear from you if you have a short story, interview, profile, or other piece you'd like us to include in a future newsletter.
email visionaryfuturescollective@gmail.com
---