read this right meow
no time like the purresent
Good morning friends,
Before we start this newsletter, we have a favor to ask.
We've been asked to gather some information about caregiving in higher education. If you work for a college or university and you have care responsibilities of any kind at home, please take a moment to fill out this survey or share it with your colleagues.
The caregivers survey is weighing on all of us, so this week we're balancing it out with something playful. Read on for some difficult feelings but also lots of psychic content and also cats.
Because in all times, and especially in this time, we all need space for things that are light.
— Hannah & Brian for the VFC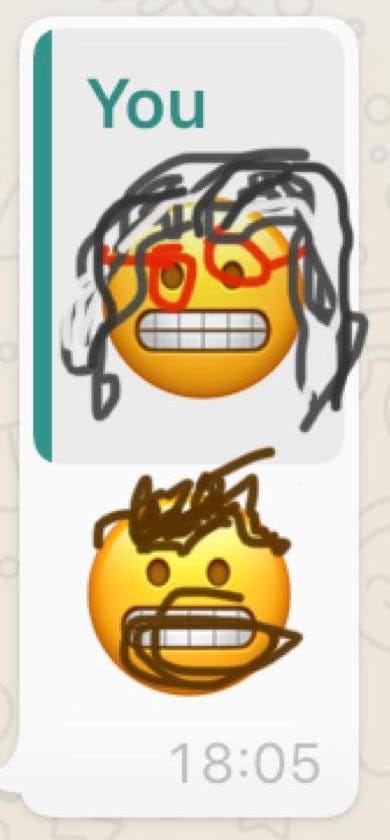 ---
This Week in Feelings
Last week was a rough week in feelings.
We heard from grad students:
I'm a grad TA at a university that requires hybrid teaching. I'm exhausted.
everything is horrible. my advisor keeps asking me questions about "my future"/"potential" and I just want to scream and die in the corner.
We heard from people frustrated with their institutions:
Administration is moving far faster than the speed of trust, and then insinuating we're not good colleagues for not being completely on board and trusting their plans
And we heard from people looking for a better future:
Hate watching dream jobs fly by...oh well.
I'm out, too. I'm sad about it, but I can't do this any more.
Why are we sharing? Because we want you to know that you're not alone. And because we want a better future for you, too.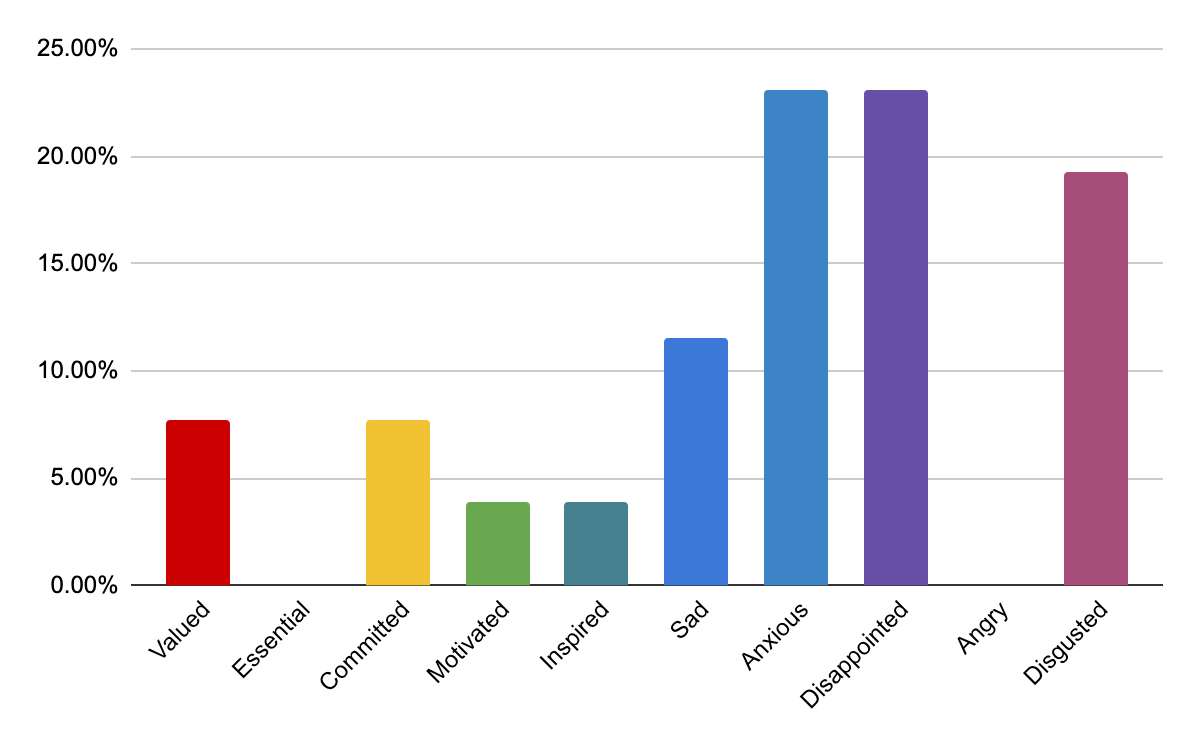 ---
I guess I believe in tarot now
I was a tarot skeptic. I was at a bar with some academics in the before-times and suddenly everyone was pulling tarot decks out of their purses and I took myself much too seriously to get involved.
But then there was a pandemic and all I could think about was all the things I didn't know. I started using tarot as a way to ask questions that felt too difficult to face head-on, a way to find some joy in the asking and have some fun with the answers.
Next thing I knew, I was spending my weekends helping to design an academic tarot deck and making videos about the future of higher education. Now it's a whole project with a website and you might find some good in it, too.
---
Productivity tips from cats and gifs
When we first published the VFC manifesto, we included an image of the inimitable and inexplicable Nyan Cat. Because Nyan Cat is funny and fun! For us, VFC member Quinn Dombrowski's reaction sums it up best.
Speaking of videos and Nyan Cat, did you know that there's a ten-hour video of Nyan Cat on YouTube?! It's one of many ways one can spend some time being playful.
The pressure to be productive at home seemed to reach a fever pitch early in the spring as many of us settled into quarantine. And since that pressure seems to be creeping in again, here's a friendly reminder to spend some time not being productive. It's a myth! Here's our friend Pusheen modeling the kind of productive we're interested in:
Don't you love it when worlds collide? Here's Pusheen again, working out her Nyan Cat costume. Maybe you can spend some time this week figuring out your Halloween costume?
Halloween is still several weeks away, so you have time. Time to shop for a pointy black hat, or fangs and a cape, or a Pop Tart and some multicolor ribbons. And even if you're not getting spooky this year, please find some time to play!
---
Dear Coyote & Bones,
How do I deal with the dread of potential layoffs and furloughs that affect me or my friends?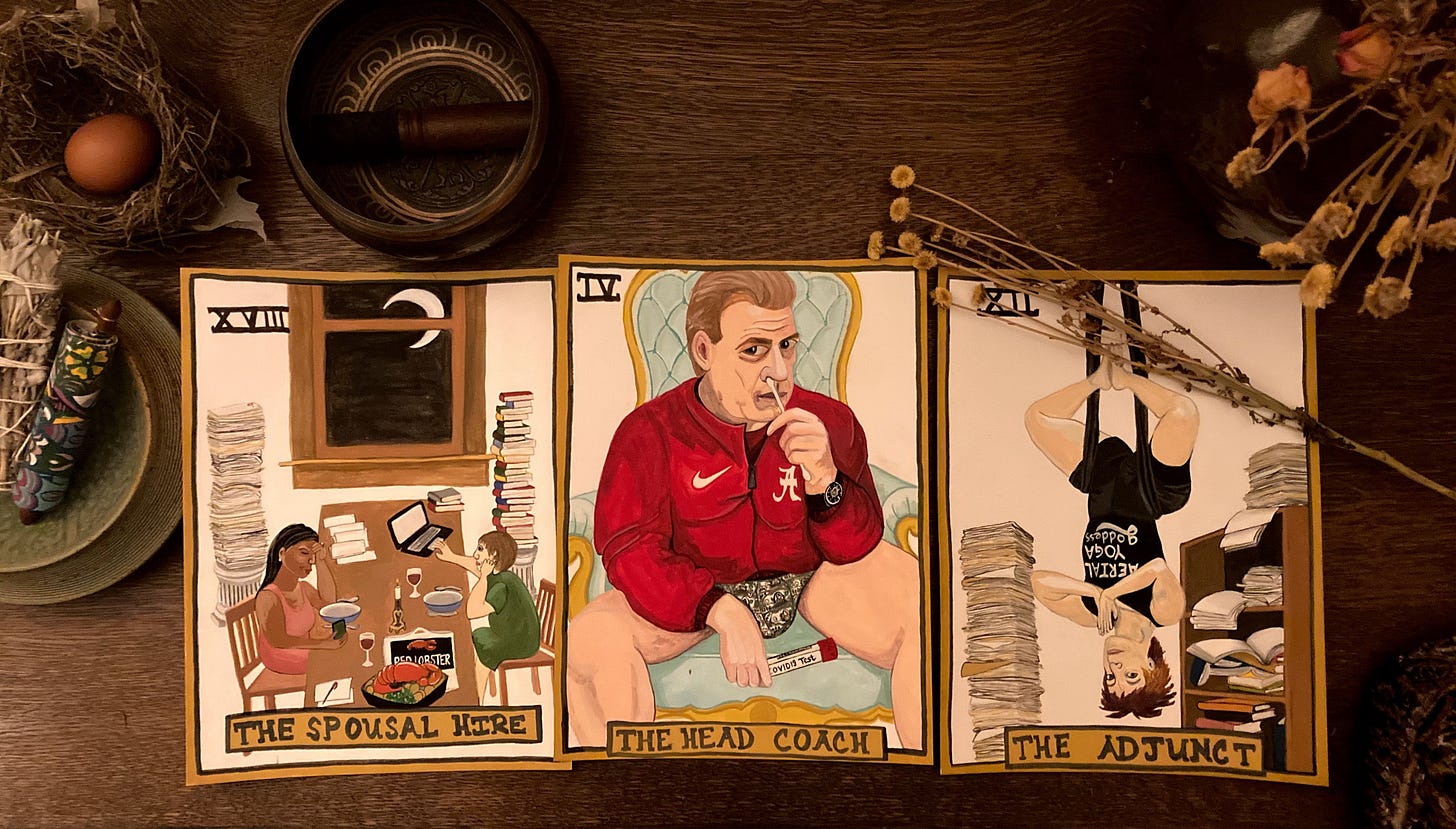 The Spousal Hire (The Moon 🌔)
Our first card today advises us on what we can change in a situation that might feel static and immovable.
The Spousal Hire signals that it's possible right now to disconnect and release our fear and anxiety. 😬
This experience is surfacing buried memories and past traumas. Maybe you're remembering the academic landscape in 2008, or maybe the job market now is resurfacing old doubts and fears, but know this: if you take steps to process the past, you can move through the wall of fear that's barring your way.
We may not be able to change much in this pandemic, but we can redirect our energies inward to move through this moment with the grace that comes with knowing what is rumor, and what is reality.
The Head Coach (The Emperor 💩)
What we can't change in this moment is legion.
Among the top of the list are the rules, paperwork, and bureaucracy that The Head Coach stands for.
The insights from this card are manifold.
We should both proceed with caution - now is not the time for rash decisions - and use the structure of the system to our advantage. We can't change the system, but we can choose not to be changed by it.
Instead, seek to understand the structures and unspoken rules of the profession enough to protect those most in need.
And, importantly, pay attention to the everyday—the mundane—check in with your colleagues and students, make sure paperwork is up-to-date, and attend to deadlines.
This card reassures us that the knowledge and wisdom we have gained, and will gain, cannot be lost. 🐣
The Adjunct (The Hanged Man 🤷‍♀️)
It's time to pause.
The first card in our reading told us we can change our inner selves, the second advises us to pay attention to detail, and our final card today is telling us to slow down… or else. 😱
Our question today implied that there is an oncoming challenge, a sense of dread that keeps building, and that has characterized much of the last few months.
This card is both a forewarning and a reflection on months past. If you don't take time to pause and to reflect, the universe will force a pause upon you.
This card can signal a sudden halt, in which case do not force your way past firm resistance, don't keep pushing forward, and definitely don't work without pay.
Instead, value yourself and your skills by taking the time to reassess, reevaluate, and rebuild. If you continue to slog through, you may very well miss the opportunity to build a new future. 🌻
---