Keep it together
What a week
Good morning, friends.
Each week we ask how you all are doing and this week, overwhelmingly, you're feeling tired. 4/5 of you reported feeling drained. More than half of you reported feeling unmotivated.
I'm feeling that too. I had … nothing … to say when I started compiling the newsletter for this week. Or rather, the distance between the things I wanted to say and the mental state required to say them was insurmountable. So this week's theme is exhaustion and the content is doing its best.
Also this week: a feelings update, a tarot reading, and visits from London the cat and Violet the bees.
In solidarity -
Hannah & Stephanie for the VFC
---
How are you feeling this week?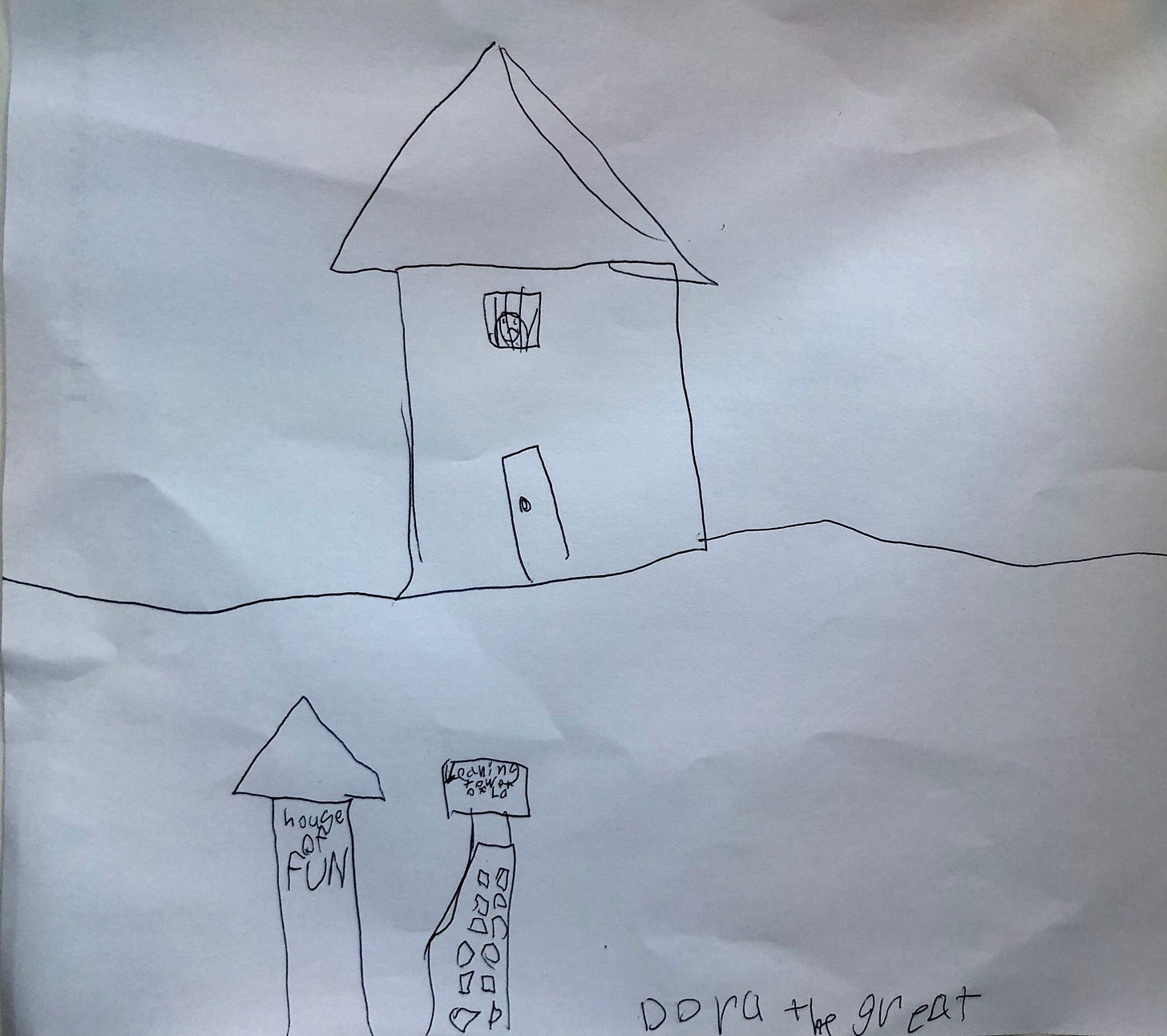 [Image description: a child's drawing shows a house with a sad person looking out from behind bars. In the foreground is a house of FUN and the Leaning tower of LA. By Dora "the great" Posner Wallace for the VFC.]
Each week we're checking in about feelings as the fall semester unfolds. For next week, we're changing things up a little bit, asking a more targeted question: How are you feeling about your profession today?
Even if you've taken the survey before, please take a minute to take it again! We'll be creating and sharing visualizations about our collective moods. And we'll never make your personal information public. Read more about our community principles.
---
Feelings Round-Up
Here we are, four weeks into the new semester, so it's a good time to take stock. How were you feeling this week?
adjuncttttttingggggg
Ah, yes. We hear you. That labor issue.
drained by tenured and tenure-track faculty just now noticing the bad labor practices of higher ed
That labor issue compounded by power.
I feel unsafe and like the university admin does not care about my well being.
Compounded by the pandemic.
So tired. So scared about the election and the country.
Compounded by politics
no tears yet, but they are coming.
And yet…
so glad to see my students, even on Zoom

These students are amazing!

Collectives and unions directly building the world we want to be in are giving me a lot of hope this week.

[Image description: four images show changes in feelings over time. On August 25 and September 1, people are mostly anxious and drained. By September 8, outraged starts to dominate. On September 15, people are mostly frustrated, unmotivated, and drained. Meanwhile, courage is diminishing, but enthusiasm stays strong and hope is growing.]
---
Donate to the BIPOC mutual aid fund!
Join a mutual aid initiative to provide small grants to help Black, Indigenous, Latinx, and undocumented students and scholars pay for moving costs associated with starting their PhD programs and post-docs.
Don't have money to give? The greater goal is to advocate for better support for students on campus. "As departments and universities issue diversity statements and policies, we would do a great service by adding needs-based moving funds that allow those starting their scholarly journeys to do so without extreme financial stress," says program organizer Dr. P. Gabrielle Foreman.
Contact Foreman on Twitter to learn more.
---
Throwback to when Zoom college was new lol.
---
Dear Coyote & Bones
How can I look professional on Zoom?
-Harried ELectronic Prof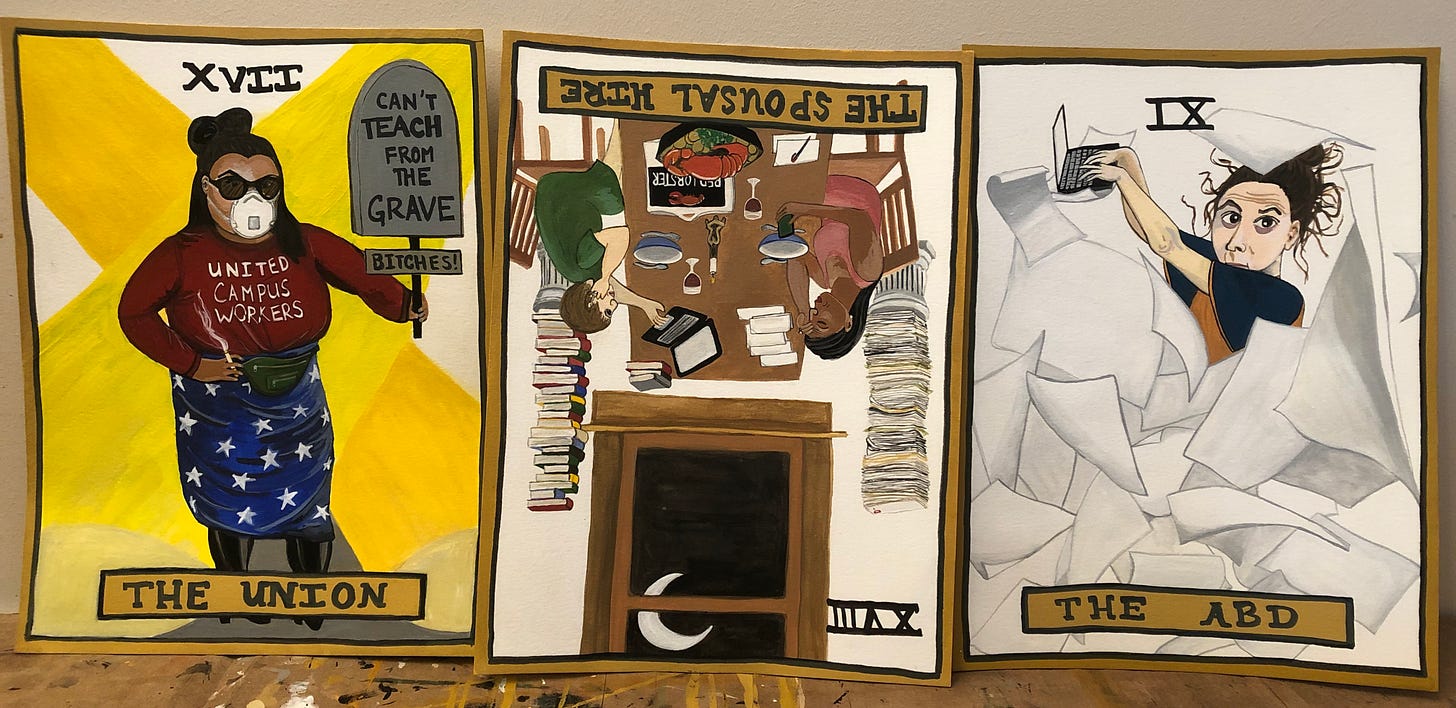 [Image description: three tarot cards: The Union is a woman in a spotlight with a sign that reads "can't teach from the grave, bitches." The Spousal Hire is a couple hard at work amid stacks of books and a romantic dinner from Red Lobster. And The ABD is writing from a laptop suspended in space while papers swirl around her. Cards by VFC resident artist Claire Chenette.]
Dear HELP,
We're taking a break from the hard-hitting questions to answer something a little gentler this week. The question first arose a few weeks ago and while it may feel less pressing now that the semester is fully falling apar—we mean, fully underway, it's still something that crosses our mind from time to time.
This week's three-card draw speaks to your past, your present, and your future: who you were (on Zoom), who you are (on Zoom) and who you are meant to be… on Zoom, and off.
What a lovely way to think about our distant pasts.
The Union tells us to look backwards, to look inwards at previous versions of our professional self with kindness. Kindness is the best way to understand current turmoil.
Kindness and cats.
Remind yourself that you have moved through uncertainty and challenges in the past with grace. High five! It's a good time to celebrate your past professional successes and re-embody the confidence that walked you into department meetings, classroom lectures, and conference meet-ups.
Brainstorm ways to bring joy to Zoom meetings: paint your nails bright red, make a fun coffee drink, let your cat moderate the group chat. Bring the positivity of The Union back into your daily practice.
This card is one of the greatest signifiers of hope, and it calls us to bring the generosity of the past into the present. Remember that feeling of collegiality and solidarity that you brought to in-person meetings because you are so damn cool? What a sense of relief it was to see friendly faces at a table?
Remember how it felt to sit next to your friends and colleagues to draw on collective understanding? Now, bring that confidence and inner hope to Zoom. In short, wear a cat t-shirt under your blazer and wear a smile.
The Spousal Hire Reversed (The Moon)
The Spousal Hire appears in readings when fear for the future drives our actions and emotions. When reversed, this card indicates that we might be ready to process the moment of crisis. Are you ready? Yes, you are.
It's time to begin processing how fear has been driving our actions. It might be easier to spend our days doomscrolling or stressing over the lighting in our makeshift living room "classrooms" than spending time processing the past six months, but this card gently calls us to move towards introspection. Be gentle, like cats making biscuits.
Just as The Union reminds us to look at our distant past for hope, The Spousal Hire softly reminds us that the personal is the professional; the present is the professional.
We will move through our new professional lives the way we will avoid the misunderstandings and fear of deception bred by virtual communication: through empathy and purposeful self-reflection.
The ABD perches alone at the very top of a mountain of work, surrounded by the knowledge they have both mastered and created. The light from their laptop illuminates the journey ahead, but that journey isn't easy. (If that doesn't scream "cat" I don't know what does.)
Teaching, being a mentor, meeting with colleagues or dissertation chairs on Zoom is difficult and jarring. It can be exhausting. But the cards have pushed us to self-actualize - to pay more attention to our inner voice than the imagined voices of critics.
YOU are what matters.
How we look professional on Zoom is not a question that can be answered universally - you decide what being professional online during a pandemic looks like. And, The ABD reminds us that we are on a journey that's bigger than Zoom; we are on the path to crafting new knowledge, new meaning. New cat outfits.
What does the professional academic look like in 2020? Let's take our cue from The ABD and remake, reimagine, and reinterpret the "professional" in our profession.
Academic tarot cards are designed and painted by Claire Chenette for the VFC.
---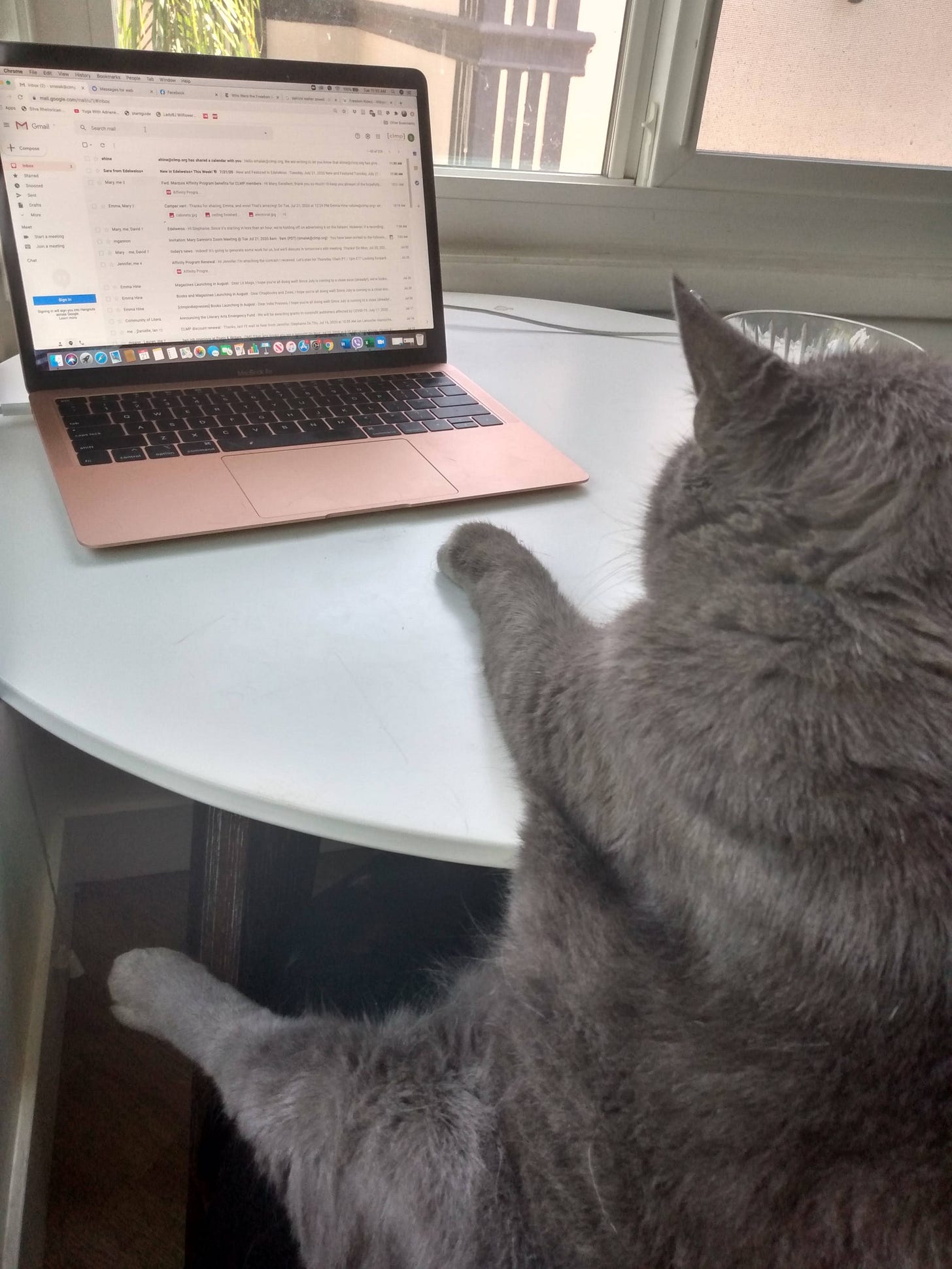 London works hard for the money to support his LA lifestyle | @londonrechoncho
[Image description: a large gray cat sits in front of a laptop with his paws on the table. By London/Gordi for the VFC.]
---
Have something you'd like us to share? If you know of a project relating to advocating for better life & labor policies on college campuses, please send it along. We're also happy to hear from you if you have a short story, interview, profile, or other piece you'd like us to include in a future newsletter… or a question you'd like our tarot readers to answer!
email visionaryfuturescollective@gmail.com
[update from VFC headquarters]