I'm getting out
bye academia
Good morning, friends,
"I refuse to die for academia," one of you wrote in the feelings survey from last week. "I just updated my LinkedIn and I'm getting out."
Whew, that one hit hard.
It's fall 2020 and job anxiety is in the air. As the feelings survey continues to show, so many of you are worried about the future of your careers.
Some of you want out of academia. Some of you are being forced out. All of you already know that there's nowhere you can go where the pandemic hasn't already hit.
This week's newsletter is dedicated to everyone thinking about their careers right now. We've got resources for job seekers and actions people with jobs can take to support our community. And we've got some playful, even hopeful content to help get through the day.
In love & solidarity
Hannah for the VFC
P.S.: As we finalize this email, we're hearing from some of you that universities are starting to threaten pending layoffs justified by lost tuition during the pandemic. We know that you are scared and outraged and we're scared and outraged with you.
P.P.S. Read this piece by VFC member Dawn Kaczmar about the student strike at Michigan: "University of Michigan Busts Graduate Worker Strike"
---
Coming Soon: Academic Tarot for Everyone!
Big news!
Next week, VFC artist-in-residence Claire Chenette is launching a kickstarter for our academic tarot deck.
Check out our brand new website to learn more about the tarot deck and other art of the academic occult.
---
This week in feelings, you are not alone.
This week we asked a slightly different question: how are you feeling about your profession?
Here's what we heard: you're working harder than ever despite job insecurity and low salaries.
I've been stretched SO thin at my current job that I couldn't handle it any more while being paid so little.
You're feeling really anxious about the future of your career.
When all this is over, I'd like a living wage.
You're facing racism in the classroom and feeling angry and upset by racism at the national level.
About to delve right into teaching the 1619 Project. With the president signaling that the government will not tolerate teaching "anti-American" curriculum, I am a bundle of anger & nerves.
And you're feeling determined to do right by your students.
Lately, been feeling like I'm doing actual good in the world.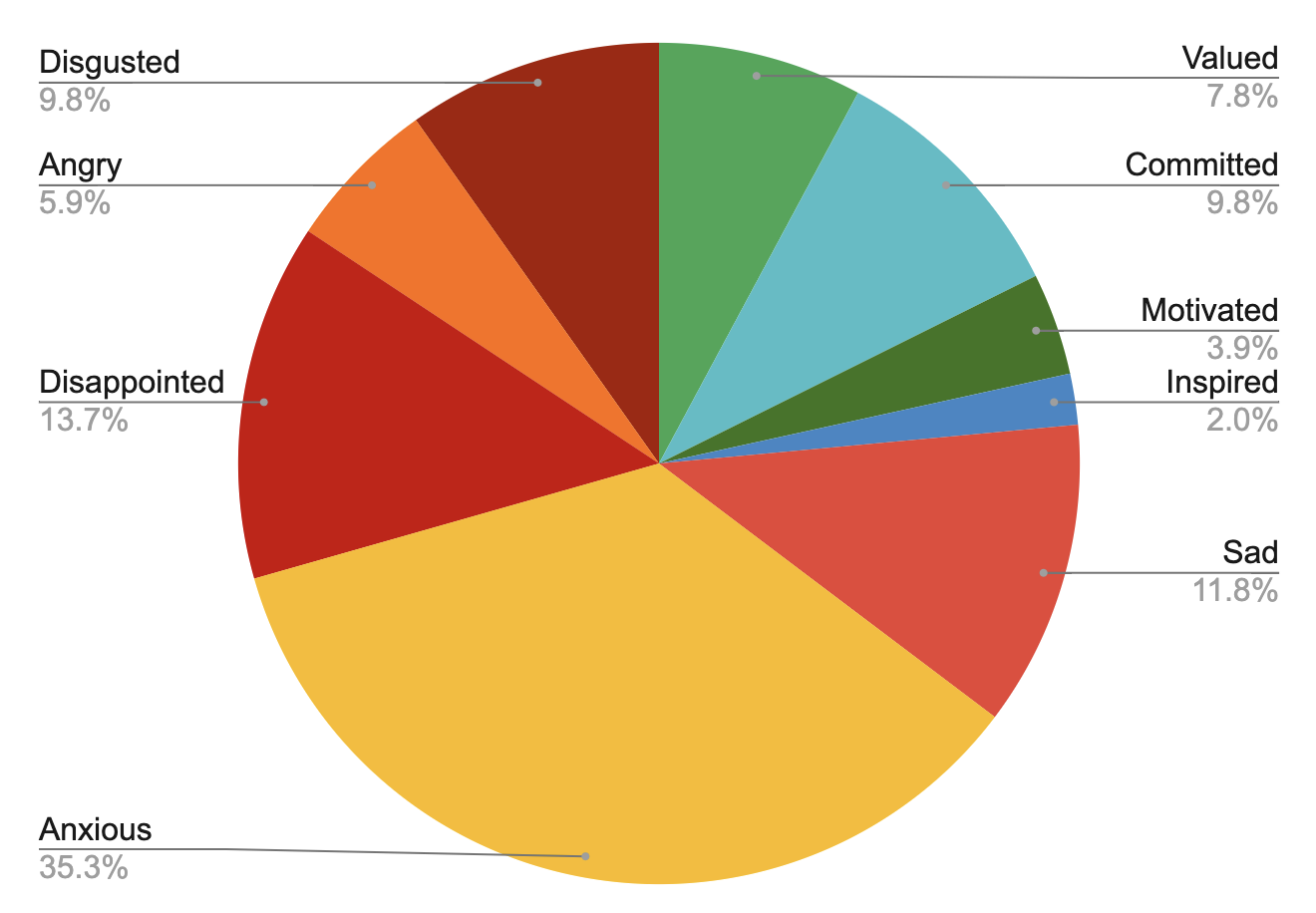 [Image description: a pie chart showing that many of you are anxious, disappointed, and sad. A small number of you are feeling inspired and motivated, but you remain strong in your commitment.]
---
For Job Seekers
Are you looking for ways to start thinking about your professional future in crisis times?
Check out this free webinar about planning for your post-PhD career, led by VFC co-founder Brian DeGrazia and Sonia Nayak of the Modern Language Association (with live ASL interpretation).
---
The Academic Job Market Support Network
The Academic Job Market Support Network is a repository of resources that help make the job search process more transparent. We aim to make concrete improvements in people's job search experience. And we aim to let job seekers know: you are not alone.
For job-seekers
Here are some resources you can find in the AJMSN:
Sample job materials, including cover letters, research statements, teaching philosophies, diversity statements, dissertation abstracts, and more for jobs ranging from postdocs, community college, and R1 positions to working in libraries and for funding agencies.

Resources to help you think about your job search, include guidelines on how to develop a professional mission statement, how to conduct an informational interview, and how to prepare for a faculty interview.

A community of post-phds working in a variety of jobs who are available to help you think about your future.
For the already-employed
Are you a post-phd with a job? Here are some ways you can help:
Upload recent job materials to the repository, such as cover letters, research statements, etc. Materials from all kinds of jobs are welcome. Read more about how (and why) to participate.

Upload secondary materials. Do you have guidance that you give students on how to conduct informational interviews, search for jobs, do a campus visit? Share them with the community.

Share the resource: Send it to your students, add it to a lib-guide, share it with a list-serve or write about it in a newsletter.

Recruit participants: Encourage your friends and colleagues to add their materials to the site.

Expand the resource: Have ideas for ways the project can grow? Email us at visionaryfuturescollective@gmail.com
---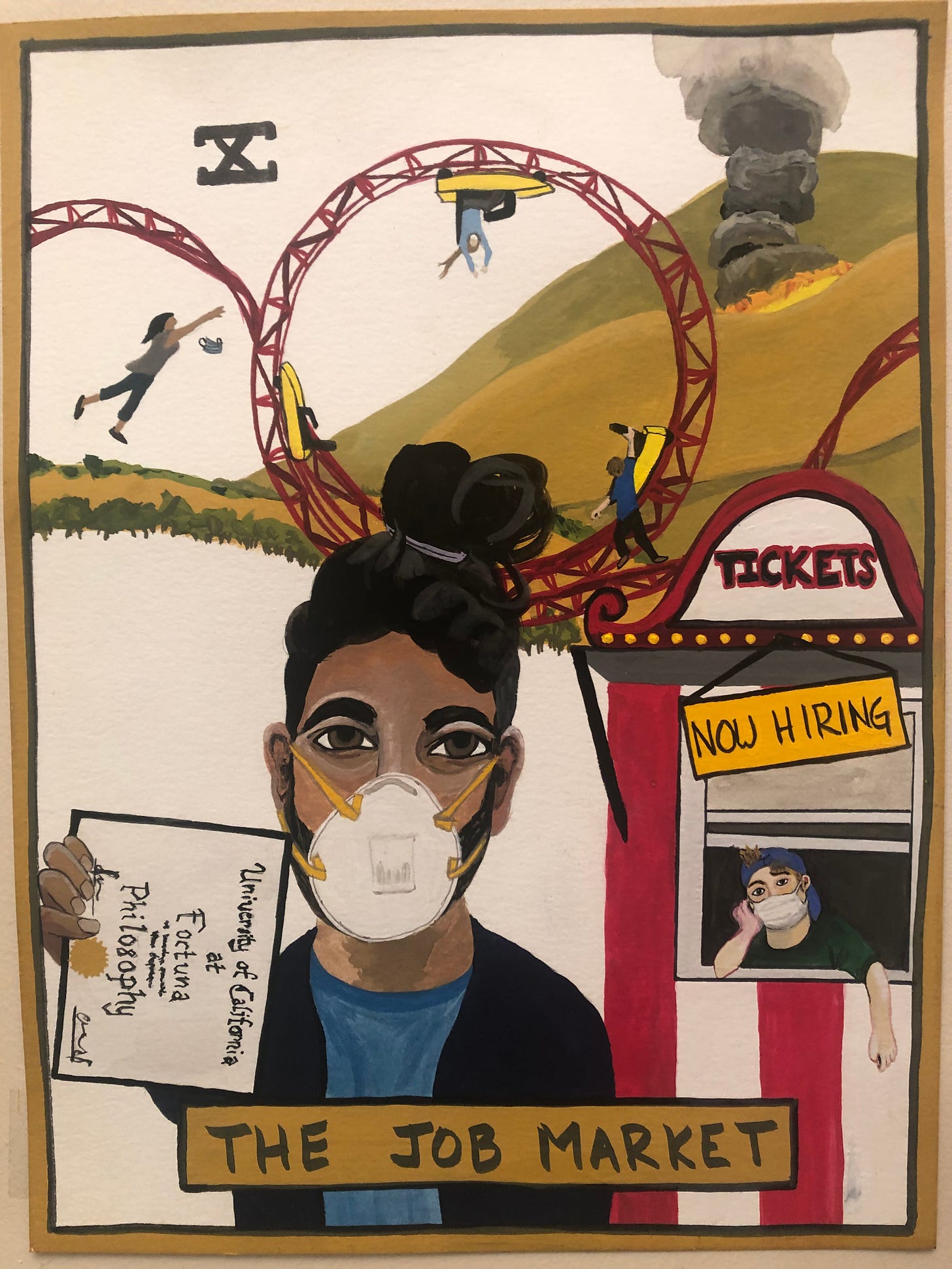 ---
On Academic Weariness and Embracing Uncertainty
By Jessica DeWitt
What comes next in my career? I've never embraced uncertainty before, and that is exactly what I'm doing right now. Part of me is loving it. I'm really enjoying just being. Living in the moment is exhilarating. Another part of me feels like I SHOULD feel guilty. That I don't deserve this kind of rest. That I'm being lazy. These are the internal thoughts of a recovering overachiever. I have a month or so left on my current contract, and then I have nothing lined up. This is on purpose. And now that COVID-19 is wrecking the economy, I have even less clue what the future holds.
---
Job Search Resource Roundup
These resources might not help you to find a job. But they might help you move from fear and anxiety towards actively thinking about what you want and why.
---
We love this talk by Kevin Winstead which isn't about the job market… but is about hope & activism. Kevin studies the use of Twitter by Black Lives Matter activists. He says that Twitter works for BLM activists when they use it to connect with one another, to learn about their history, and to share tactics and strategies for liberation. But he also says Twitter generates hope by creating a space where activists can play together.
---