countdown
no thank you
Dear friends,
The anticipatory anxiety is all but killing me this week.
Today of all days, I ran past two small children, blond, happy, standing across the street from the planned parenthood praying to end abortion and I am so fucking angry. I know I should be too smart to be angry, too aware of the long history of injustice in this country to feel outraged at yet another horror, but planned parenthood has saved my life more than once and my defenses were down and so here I am, furious.
Look. I won't say that it's going to be fine. But I will say that I am grateful to have you to be angry with, and sad, and scared. I am grateful to know that you are fighting with me. It is so good to know that I am not alone.
Anyway, this week's news: feelings, caregiving, revolution, leadership, and updates on the tarot kickstarter.
Un abrazo grande.
—Hannah for the VFC
---
This week in feelings
Here's how you were feeling last week!
Tired
Worn out
Scared
Exhausted
Love you all.
---
Caregiver Survey Update
Are you concerned about what's happening to caregivers on college campuses?
Caregivers are people who have at-home care responsibilities: for children, for parents, for siblings, for partners, for other loved ones.
With the collapse of external caregiving resources, like schools, elder-care facilities, and offices, many of us are being asked to shoulder an impossible burden: full-time care and full-time work.
This week, we published updated data on caregiver feelings, campus accommodations, and testimonies from caregivers at universities.
We now have data on over 120 institutions in North America and beyond. Here's what we know:
Less than 10% of institutions are providing any financial or logistical support to caregivers in the pandemic.

We identified nine ways that institutions can provide scheduling support for caregivers. With the exception of work-from-home or flexible hours, less than one third of institutions are offering any support.

While 42% of institutions have acknowledged the impact of caregiving, less than 20% are communicating their policies clearly or treating it as an equity issue.
Supporting caregivers is an equity issue. The time to act is now.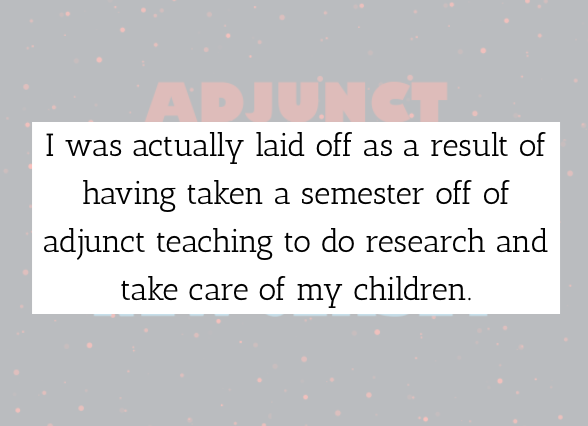 ---
Death and Revolution: Thinking with Hester Pulter by Dyani Johns Taff
"What is the use?" I think, most days. What is the use of continuing to teach and write my book? What is the use of academic work when my college has proposed cutting a quarter of our faculty and has already cut so many staff, when we are by no means the only college facing austerity, when so many are worse off than precariously employed academics? I want very badly to change the racist, patriarchal policies that we have inherited, and to build a society based on care for each other and reparations for those we've harmed, a society committed to repairing our relationship to the planet that sustains us. But I often share Pulter's skepticism of the change offered by dissolution and revolution, even as, with her, I council "my impatient soul" to be patient. If not, if the alchemical miracle isn't coming, if divine resurrection or political revolution isn't possible, then what do we do?

Maybe Pulter's poem is really teaching us that the deferral of miraculous transformation until after death is a betrayal of what needs to happen here and now.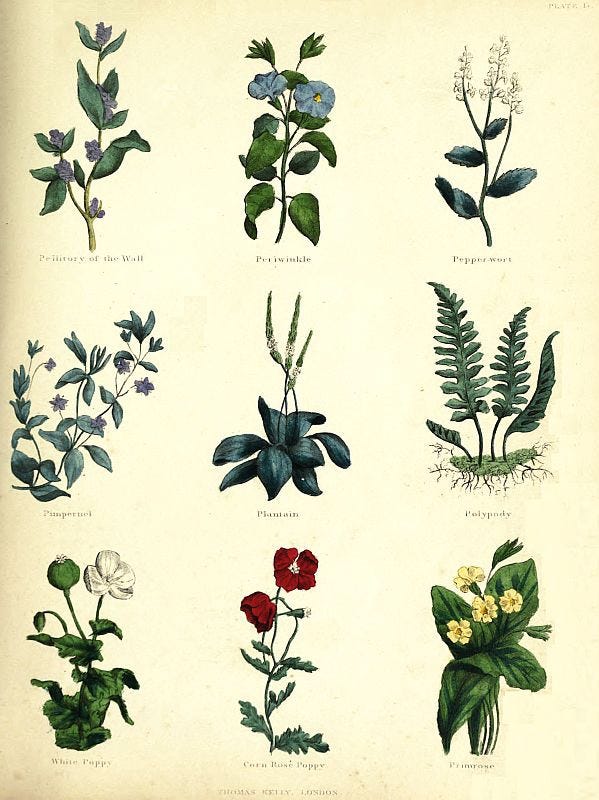 ---
What does generous leadership look like?
One of the sources of inspiration for the Visionary Futures Collective was Kathleen Fitzpatrick's Generous Thinking, a book about the future of higher education directed at academic administrators. It offers paths towards a more generous academy for tenured faculty, department chairs, deans, and other institutional leaders.
Last winter, some of us started #GenerousThinking to explore how Fitzpatrick's framework of generosity could be implemented from the bottom up. In many ways, the VFC and the APFN are extensions of that project. I like to think of us as generous actors, manifesting generosity to build solidarity even as our voices are suppressed by our positions in the academic hierarchy, the austerity measures imposed by our institutions, and the precarity of our employment.
Kathleen Fitzpatrick has just published the first chapter of her new book, Leading Generously, and she is soliciting feedback. Let her know what you think!
---
Academic Tarot Update
We're ending with a little bit of good news. Thanks to your support, our academic tarot project on kickstarter is fully funded! We are overwhelmed with gratitude and overjoyed that this project will be a reality. This winter we'll be shipping a full Major Arcana deck of academia-inspired tarot cards to our supporters. And with the extra funds, we'll be extending the project and paying forward to support others working at the intersection of art and resistance in higher ed.
---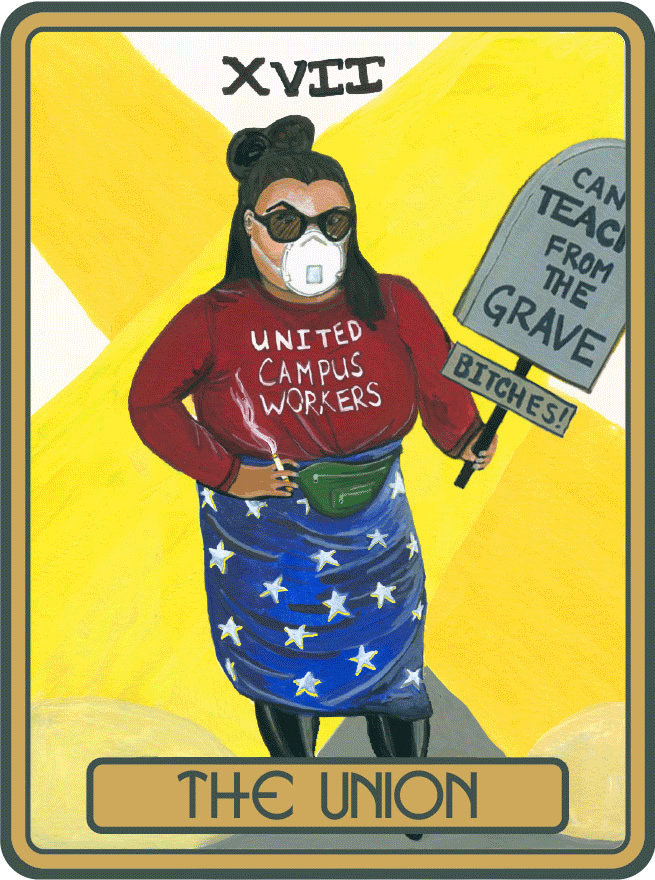 Can't teach from the grave, Bitches.